Image linked from
BBC News
Are you up-to-date on
The Supreme Court and the United Kingdom's legal system
?
Did you know that Her Majesty The Queen signed a warranty granting "
Courtesy titles for Justices of the Supreme Court
" of the United Kingdom so that
all Justices
are addressed in a similar manner as "Lord" or "Lady"? The non-peerage title is good for life and the spouse of a "Lord" is also to be called "Lady".
There is a changing of the guard in process at the
Supreme Court of the United Kingdom
. Just last month
Sir John Dyson
, now Lord Dyson, was sworn in as the UK's 12th Justice to fill a post vacant since the Court started its work in October, 2009.
Afua Hirsch has the story
and we link to a photograph of the current Court via Akira Suemori of the AP at the Guardian.co.uk website (the Supreme Court website has
the same photo
):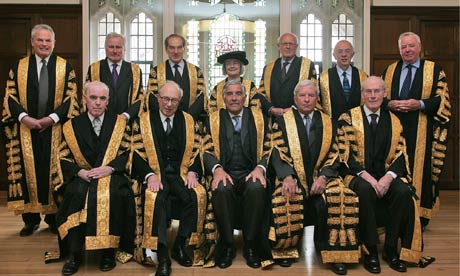 Is Dyson (back left) that tall or did they just put the other tall guys on the chairs?
Check out the article
.
This month, as reported in the Guardian by Owen Bowcott,
two new
Supreme court judges
have been appointed to replace retiring
Lord Saville
and imminently retiring
Lord Collins
, Lawrence Antony Collins, Baron Collins of Mapesbury,
PC
, who in his younger days received an
LL.M
from Columbia Law School in New York.
One appointee is
Lord Justice Wilson
of the Court of Appeal for England and Wales and the other is
Sir Jonathan Sumption
OBE
QC
, soon to be a
non-peerage "Lord"
, "
the cleverest man in Britain, with "a brain the size of the planet" and fees to match"
, a lawyer whose salary of £206,857 at the Supreme Court will be considerably less than the £1 million plus he reportedly earns annually in representing the likes of Russian self-made billionaire
Roman Abramovich
, now owner, among other things, of the
Chelsea football club
.
The appointment of Sumption is being touted as bit of a sensation in the UK as it is the
first time
a barrister has ever been appointed directly from the Bar to the Supreme Court of the United Kingdom, although other judicial appointments from the Bar
have been made in the past
.